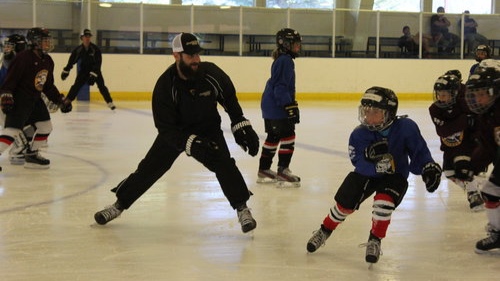 Our co-founder, Cody Lampl, grew up in small town Idaho with a passion for hockey. A self described gym and rink rat, Cody's passion and love for the game have been the driving force behind his hockey career. Cody moved from Idaho to play for the Dallas Stars midget AAA hockey program which finished third at nationals, earning himself a scholarship to Colorado College. At CC, Cody became a very versatile player for the Tigers playing both forward and defense, while helping the team reach the NCAA tournament twice. After graduating from CC, Cody played six seasons of professional hockey in North America, including trips to both the ECHL Kelly Cup Finals and the AHL Calder Cup Finals. Cody has extensive experience coaching and training hockey players. He has coached at eight Rocky Mountain District Camps, as well as being the owner and operator of his own off ice training facility in Sun Valley, Idaho, the Lampl Hockey Garage. Cody currently plays with the Adler Mannheim of the German DEL.
You can contact Cody at cody@mountainhighhockey.com.
Grew up in Illinois and played for various teams in the state including the Highland Park Falcons, Chicago Young Americans (CYA) and Team Illinois (TI).
Played for the National Team Development Program, which concluded with him winning the Gold Medal at the U18 World Championships in 2006. He was also fortunate enough to play on the USA World Junior team for two years, winning 1 Bronze Medal.
Afterwards, he accepted a full scholarship at Colorado College where he played all four years and was the Assistant Captain his senior year.
Was drafted in the second round, 38th overall, by the Chicago Blackhawks in 2007.
Once he turned pro, he played three seasons with the Vancouver Canucks organization, playing in 3 NHL games, and then played five additional seasons in the Swedish Hockey League (SHL), the top league in the Sweden. He retired in 2018 and tallied 477 professional games while compiling 119 goals and 132 assists.
Coach Rickard is the Head Coach for Team Colorado women's hockey program having previously worked for Colorado Select and the Colorado Thundersbirds spring program.
Coach Rickard attending the University of Wisconsin.